Extra High Voltage (EHV) Switchgear and transmission assets are critical to the power network and commonly utilise PD monitoring.
Using advanced condition based monitoring methods and equipment, asset operators can ensure these systems remain online and reliable for the power networks they serve.
IPEC has solutions covering EHV Switchgear assets including
GIS Switchgear
EHV Switchyards
PD monitoring of GIS is commonplace due to the critical nature of the assets, and necessity to predict failures before they happen. Various solutions can be used for these assets, IPEC offers permanent monitoring systems, PD instruments as well as PD service options.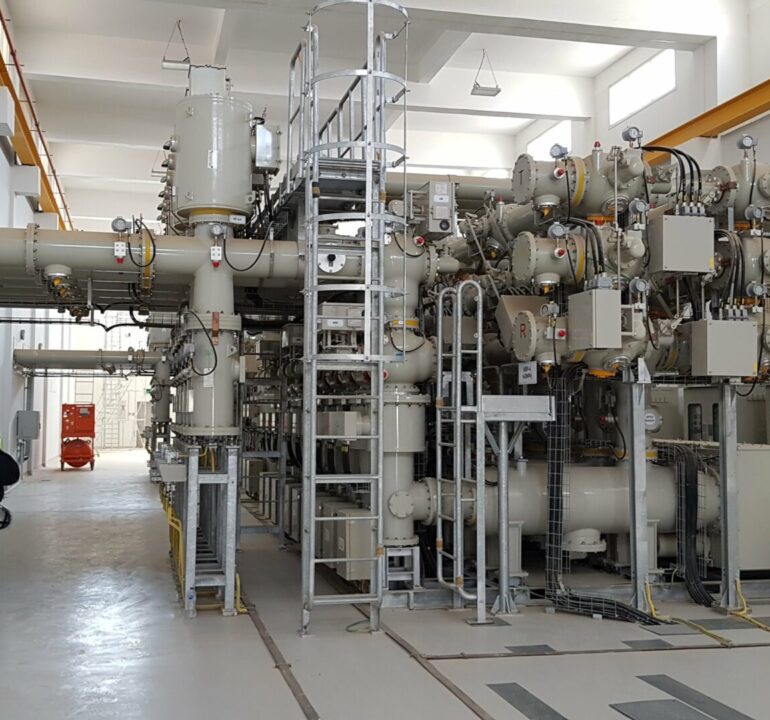 ASM – Permanent Monitoring for EHV
The IPEC ASM is a permanent monitoring system designed monitor the condition of switchgear. For a GIS system including UHF sensors, up to 20 channels can be used in a single ASM, and multiple ASMs deployed across a site. The ASM is an on-line PD Monitoring system for GIS, and can also incorporate the HFCT sensors for EHV Cable PD Monitoring.
For larger systems, multiple ASM's can be hosted on a single server, with a comprehensive asset management system to easily recognise and verify PD activity when found. The system will automatically track and classify PD data to give a clear picture of asset health and raise alarms when user defined thresholds are reached.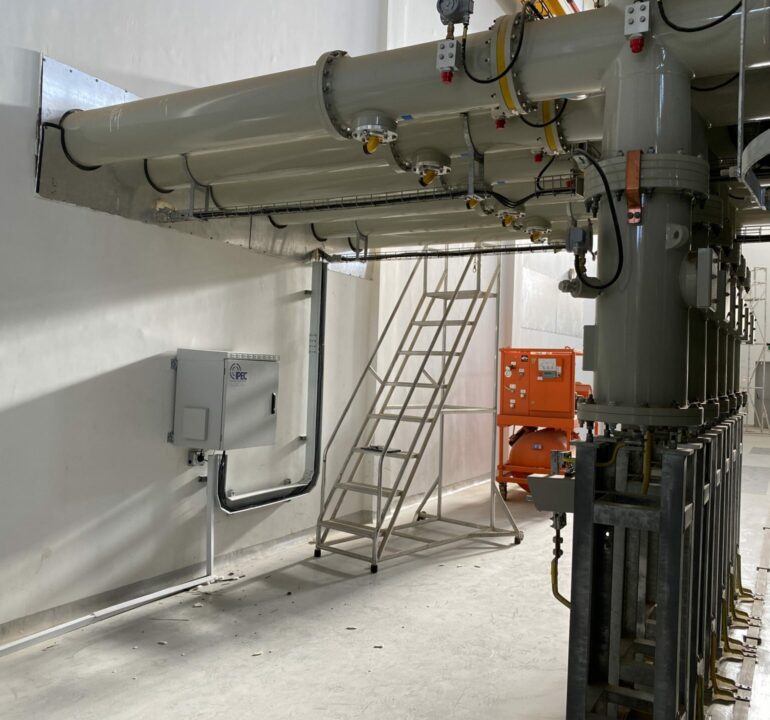 ASM – Sensors for GIS
PD in GIS occurs in enclosed chambers, ultra-high frequency signals are directly radiated and detected by UHF sensors, operating in the range 200MHz to 2GHz. When retrofitting sensors to existing GIS, UHF sensors are most commonly coupled to insulating spacers. Sensors can also be installed in UHF windows or pre-installed by GIS manufacturers. UHF signals from one section of the GIS may be detected by neighbouring sensors. Noise gating sensors placed on the GIS use a precedence system to eliminate the cross coupling and ensure accurate PD location.
Other sensor types including HFCT's, TEV's and Ultrasonic sensors can also be used in conjunction with UHF Sensors to monitor the complete GIS system including cables and terminations using the same or additional monitoring systems.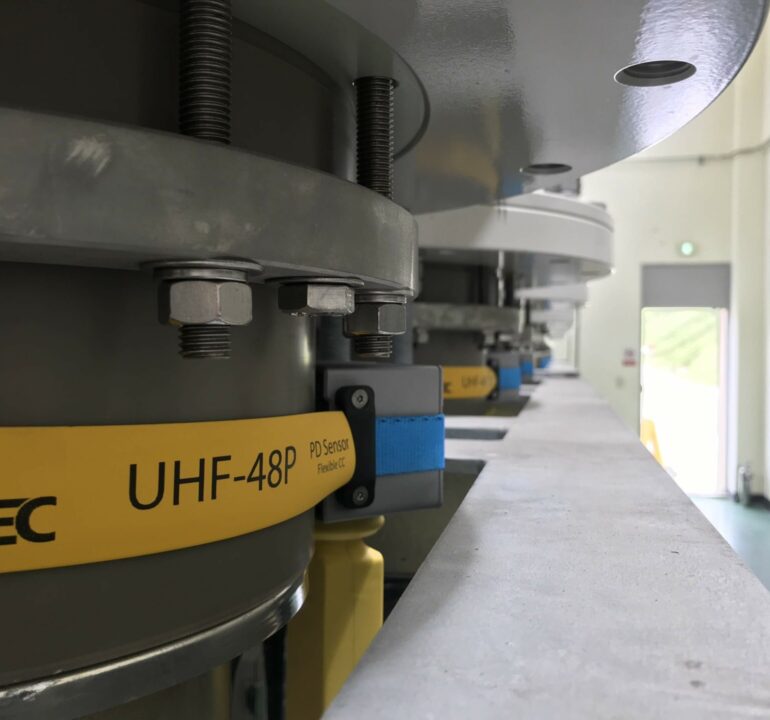 PD Instruments – GIS
On-line PD Spot testing can be carried out on GIS using handheld devices such as the PD Detector and PD-SGS. Using add-on UHF sensors, a quick and simple survey of the GIS condition can be conducted. UHF and HFCT measurements can be made to distinguish if PD is present before more sophisticated methods can be used to locate and classify the PD signals.
PD Instruments – Outdoor Switchyards
Outdoor switchyards are often more resilient to PD, this means less intensive monitoring is usually sufficient. Periodic PD surveys using an ultrasonic sensors will detect surface PD. The IPEC parabolic dish amplifies the effectiveness of the ultrasonic probe and when paired with a handheld device allows surveying from up to 30m away.
This technology is a low cost but effective solution to switchyard PD monitoring and testing. PD in switchyards is most commonly found in 2 forms: surface tracking and corona. Surface Tracking is generally more concerning as it will cause lasting damage to insulating components, Corona on the other hand, is ionisation of the air, and less likely to cause damage. By moving around the switchyard and testing PD from multiple angles, it is possible to distinguish between the two.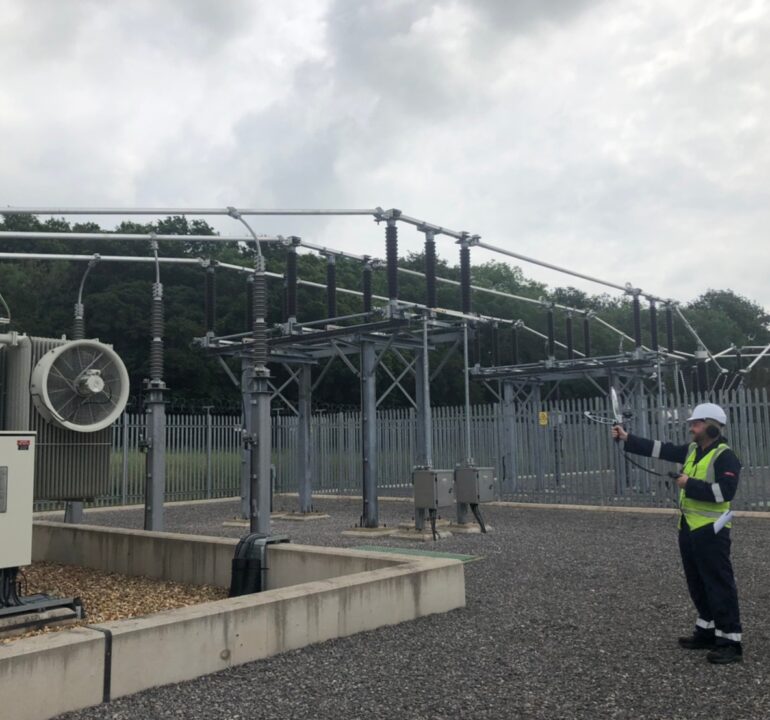 EHV PD Services
EHV PD can be complicated and hard to verify or locate. Dedicated PD training is recommended to help the understanding of individual systems and PD data. If a more complicated situation arises, IPEC's team of highly skilled PD engineers can assist in ensuring the correct decisions are made.
For anyone purchasing an IPEC product, free support is available to handle PD queries so costly shutdowns or even more costly failures can be avoided. For more dedicated assistance, IPEC offers service level agreements including PD reports and device maintenance to ensure reliability of switchgear.