ASM-Portable – Portable PD Monitor
The ASM-Portable is a Portable Partial Discharge (PD) Monitor for cables, switchgear, and other high-voltage assets. The unit is part of the IPEC's wider range of on-line PD monitoring systems. The ASM-P can be configured with up to 32 PD sensor channels. If excessive discharge is detected, the ASM-P raises an alarm that can be configured either locally or by email. This enables the long-term assessment of plant conditions to be carried out quickly and easily, from any remote computer.
Key benefits
Portable but powerful
ASM-Portable has the full power of our ASM system, in a portable design
Continuous Monitoring
24/7 PD Monitoring, ensures PD is quickly detected before failures occur
Automated Analysis
ASM will automatically detect and identify PD, without the need for manual analysis
Spec sheet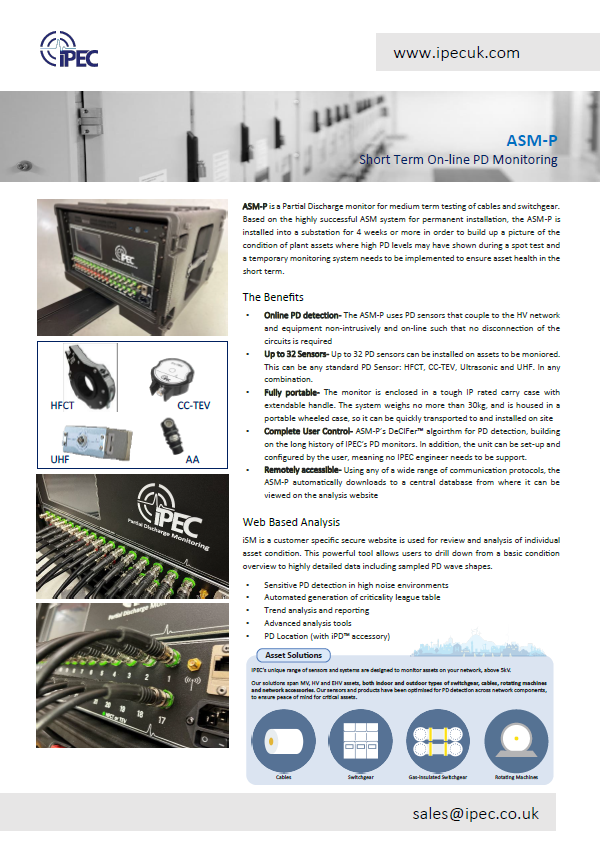 Web Based Data Analysis
Partial discharge data is automatically collected from the ASM-P and is stored on a central database and is hosted by IPEC. Customers have direct password-protected access to this data via the Internet, allowing them to browse the data and analyse plant condition from any PC.
Condition information presented like this can be used for targeting scheduled maintenance work before the failure happens, improving network reliability and prioritising asset replacement.
Based on the magnitude of activity levels recorded and the trend in that activity, a 'League Table' is automatically generated once every 24 hours. This table gives a clear and quantitative representation of the condition of monitored high voltage assets at any given moment.
The PD Data Analysis page allows signals from any channel to be analysed. Data can be selected over any period and signals resolved in phase viewed. The analysis has the following features:
PD Peak, PD Count, Load, Asset Criticality and Analogues plotted against time

Any time period selectable

Up to 8 channels selectable at one time

Multiple thresholds for count between 5mV and 100mV

Data Averaging and Noise Reduction functions

Rectified/Bi-polar graphs

Phase resolved PD data in linear/polar representation

Cumulative Count data

Time of Day analysis
Partial Discharge Sensors for ASM-Portable
Sensors are distributed around the substation according to the monitoring requirements. Both active (with integral amplifiers) and passive transducers are compatible including the following:
High Frequency CTs

– for cable PD detections

Capacitively Coupled

– for TEV (Switchgear) PD detection

Airborne Acoustic

– for Surface tracking or corona

Temperature and Humidity – environment measurements

Up to 32 sensors can be monitored by a single ASM-P.