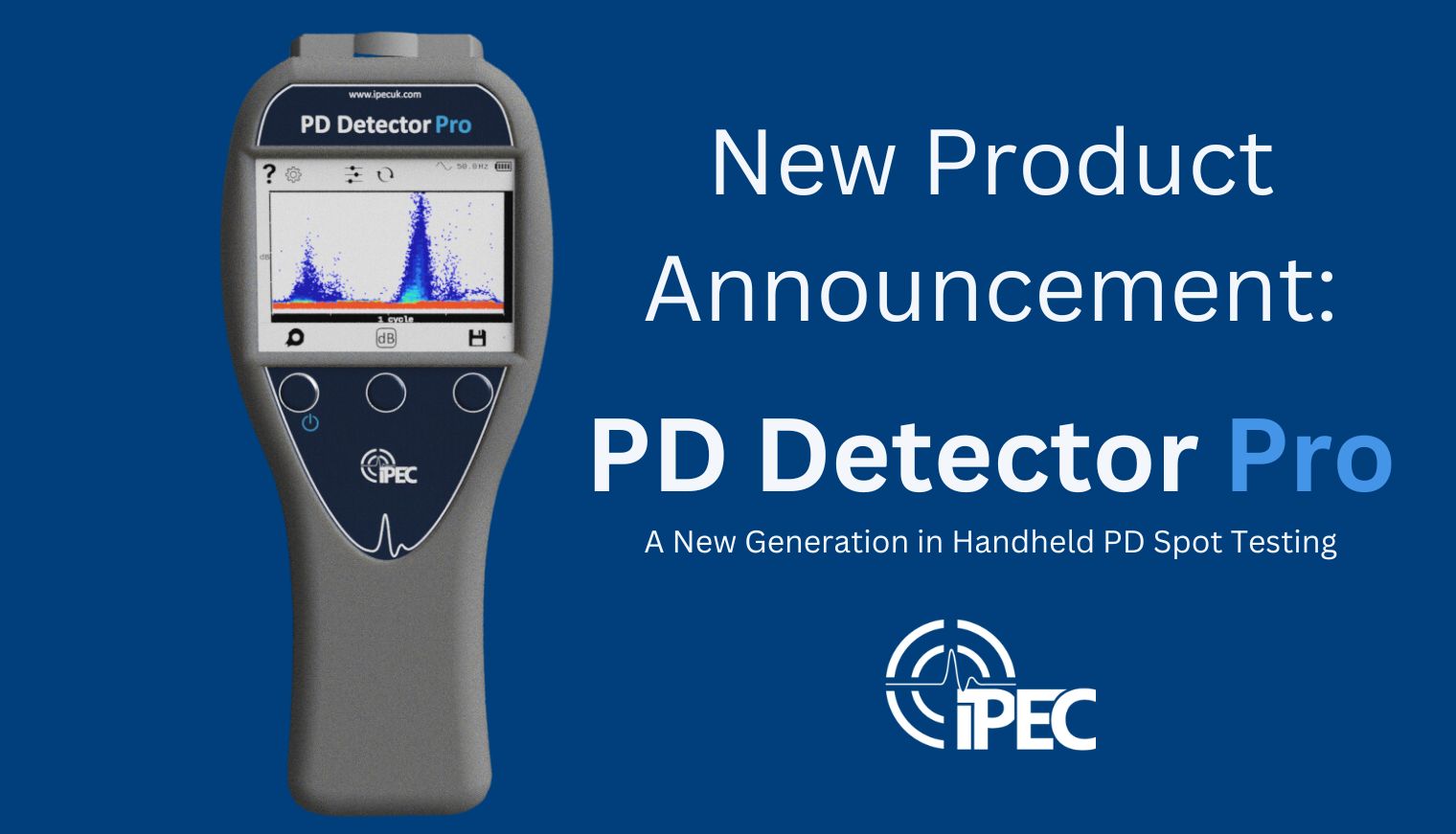 New Product Announcement: PD Detector Pro
17 / 07 / 23
News
We're so excited to announce and introduce the 𝐏𝐃 𝐃𝐞𝐭𝐞𝐜𝐭𝐨𝐫 𝐏𝐫𝐨!
This brand new handheld Partial Discharge Detector with ground-breaking functionality heralds a new generation in on-line PD Spot Testing.
Building on IPEC's market leading technology, the PD Detector Pro has innovative new features and advanced design making it the highest performing and easiest to use detector for high voltage assets.
𝐊𝐄𝐘 𝐅𝐄𝐀𝐓𝐔𝐑𝐄𝐒 𝐈𝐍𝐂𝐋𝐔𝐃𝐄:
• 𝐃𝐢𝐬𝐭𝐢𝐧𝐠𝐮𝐢𝐬𝐡𝐞𝐬 𝐛𝐞𝐭𝐰𝐞𝐞𝐧 𝐚𝐧𝐝 𝐝𝐢𝐬𝐩𝐥𝐚𝐲𝐬 𝐛𝐨𝐭𝐡 𝐏𝐃 𝐚𝐧𝐝 𝐧𝐨𝐢𝐬𝐞 𝐥𝐞𝐯𝐞𝐥𝐬
• 𝐖𝐢𝐫𝐞𝐥𝐞𝐬𝐬 𝐛𝐮𝐢𝐥𝐭-𝐢𝐧 𝐬𝐲𝐧𝐜𝐡𝐫𝐨𝐧𝐢𝐬𝐚𝐭𝐢𝐨𝐧; 𝐚𝐮𝐭𝐨𝐦𝐚𝐭𝐢𝐜𝐚𝐥𝐥𝐲 𝐥𝐨𝐜𝐤𝐬 𝐨𝐧 𝐭𝐨 𝐭𝐡𝐞 𝟓𝟎/𝟔𝟎𝐇𝐳 𝐬𝐲𝐬𝐭𝐞𝐦 𝐟𝐫𝐞𝐪𝐮𝐞𝐧𝐜𝐲
• 𝟑.𝟓" 𝐖𝐢𝐝𝐞𝐬𝐜𝐫𝐞𝐞𝐧 𝐓𝐨𝐮𝐜𝐡𝐬𝐜𝐫𝐞𝐞𝐧 𝐢𝐧 𝐜𝐨𝐥𝐨𝐮𝐫, 𝐦𝐚𝐤𝐢𝐧𝐠 𝐚𝐧𝐚𝐥𝐲𝐬𝐢𝐬 𝐜𝐥𝐞𝐚𝐫 𝐚𝐧𝐝 𝐬𝐢𝐦𝐩𝐥𝐞
𝐀𝐍𝐃 𝐌𝐔𝐂𝐇 𝐌𝐎𝐑𝐄!
This new product is available for purchase now, and you'll have the opportunity to see it in person at upcoming seminars and events.
To find out more about the PD Detector Pro, check out our new dedicated page on our website: https://ipecuk.com/our-products/pd-detector-pro/
or email us at sales@ipec.co.uk
---