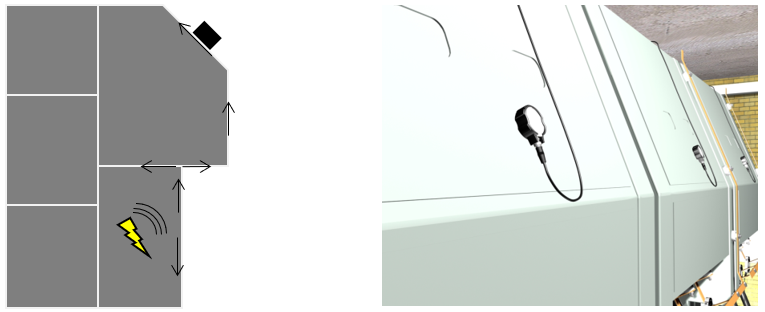 Switchgear (AIS) Partial Discharge Sensors Application – CC-TEV & AA
07 / 10 / 20
In our last blog, we discussed PD sensors' application on cables. In this blog, we will discuss the application of PD sensors in Air Insulated Switchgear (AIS). It is important to understand the best application of various IPEC sensors, in order to correctly identify how to best detect PD, and prevent failures.
MV Air Insulated Switchgear (AIS)
Different causes of PD on different types of assets will influence what type of sensors should be used and where to apply those sensors. There are some common causes of PD in MV AIS:
Voids inside solid insulation or air in liquid insulation
Cracks on solid insulation
Air gaps between damaged conductors
Contamination or heightened stress on the surface of the termination
To monitor or detect PD in MV AIS, the industry standard and effective sensors are CC-TEV sensors and AA Ultrasonic sensors.
CC-TEV (Transient Earth Voltage Sensors) 
CC-TEV sensors can detect TEVs (Transient Earth Voltages) as they pass over the cladding of the high voltage plant, originating from the source of a PD inside the switchgear. The sensor is encased in a durable PVC sleeve for added protection. Embedded in the body are powerful magnets allowing for coupling to steel enclosures.
CC-TEVs are capacitively coupled sensors and are placed on the outside of switchgear panels (front or rear) to detect PD activity inside switchgear components (internal PD). The detection range of a CC-TEV can be up to 3 to 4 metres from a PD source.
Notes on CC-TEV:
PD signals will travel across multiple switchgear panels, the PD may be seen in many locations or by different sensors
PD location cannot be done with only a single TEV sensor, instead, two sensors are needed with time of flight functionality on the connected equipment
AA Ultrasonic (Airborne Acoustic Ultrasonic Sensors) 
The AA Ultrasonic sensor is extremely sensitive and can detect activity below 10pC. It is a "Line of sight" sensor designed for use on air-insulated terminations where there is a clear sound path between the electrically stressed insulation and the sensor.
The permanent sensor has a magnetic base to allow coupling to steel enclosures and a swivel head as so the detecting sensor can be aimed at the direction of potential surface discharge. AA ultrasonic sensors are used to detect PD activity across surface of insulation which usually happens at cable terminations or exposed bushing (surface PD). The detection range of AA ultrasonic sensors can be up to 2 to 3 metres from PD source. A parabolic dish is often used with portable instruments to extend the range of this sensor type to 20 to 30m.
Notes on AA Ultrasonic:
Some switchgear requires a shutdown for ultrasonic sensors to be installed inside the cable termination
The AA Ultrasonic sensor is directional, so much be aimed correctly for permanent installation, and sensor head pointed at different components for portable systems
Many terminations are enclosed, it may be possible to install ultrasonic sensors at the 'gaps' in panels or where two panels meet
---