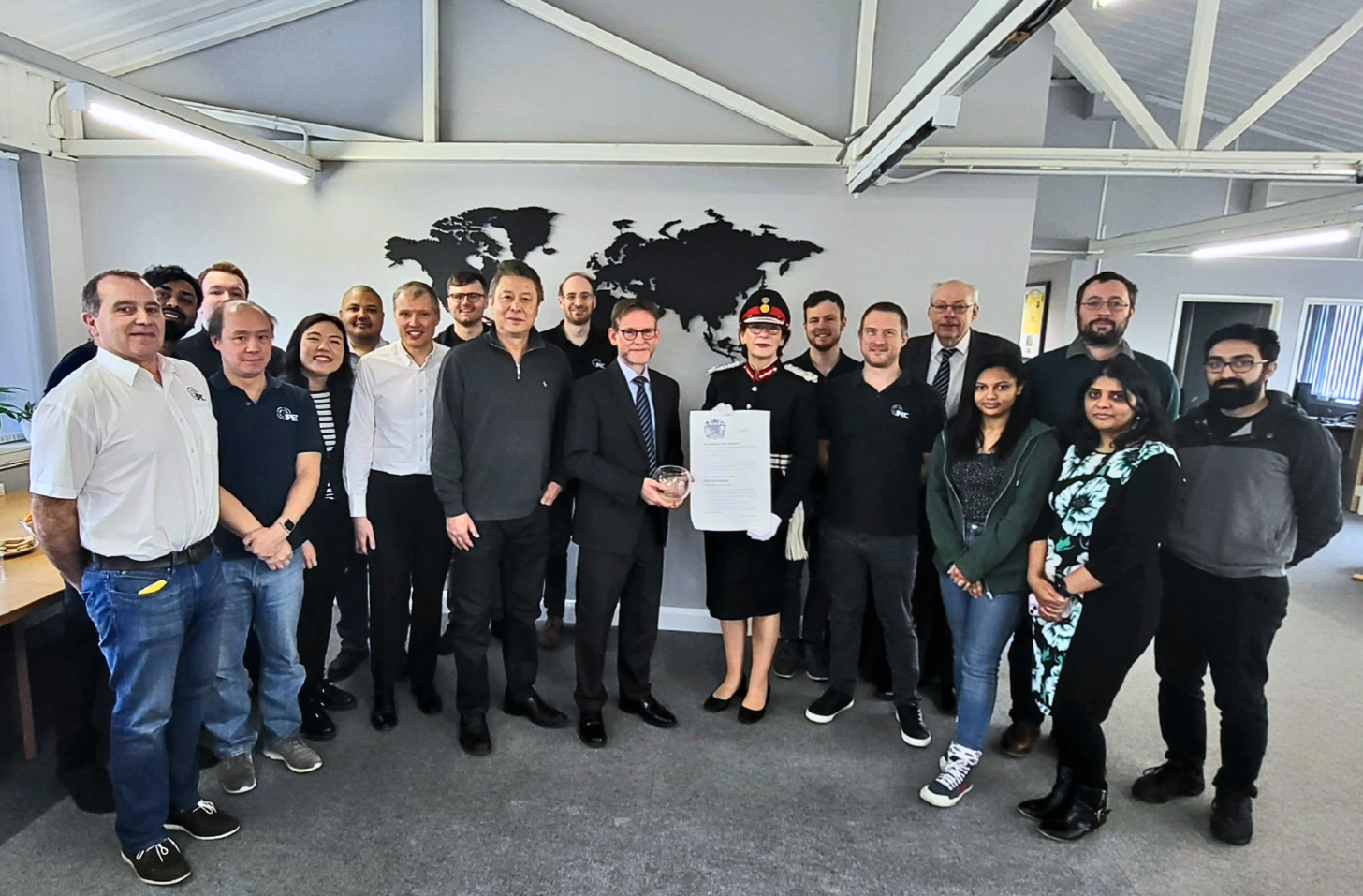 The Queen's Award for Enterprise: International Trade 2022 – IPEC
23 / 03 / 23
Company
---
Due to our significant and continuous improvement in exporting for the past 3 years, IPEC have been awarded the Queen's Award for Enterprise: International Trade 2022.
On the 14th of February, we had the honour of having Mrs D Hawkins JP LLB, His Majesty's Lord-Lieutenant of Greater Manchester come to our Manchester office to present us with the award, accompanied with a presentation.
IPEC is one of 226 organisations nationally to be recognised with a prestigious Queen's Award for Enterprise, and it is a great honour to win the final award signed by Her Majesty The Queen before her passing last year.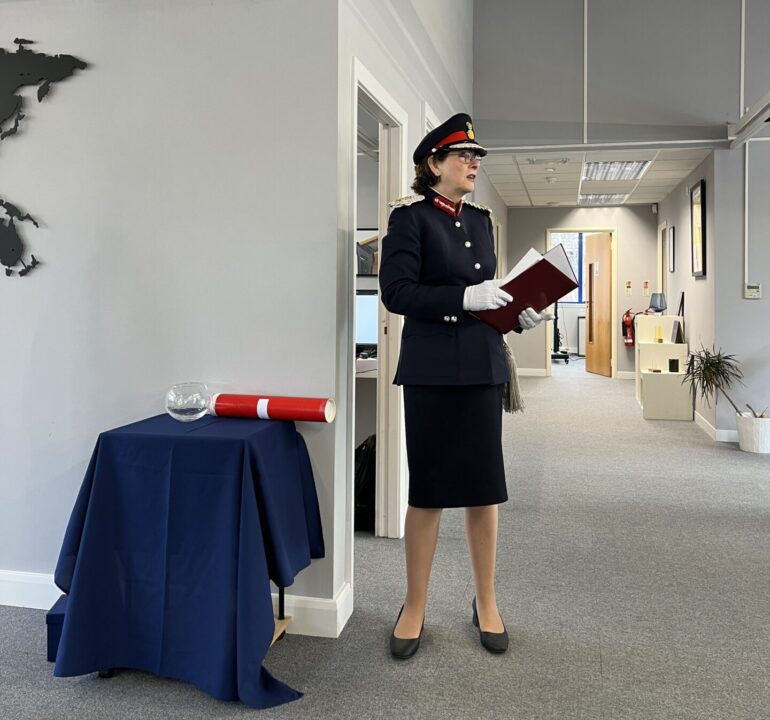 The Queen's Award for Enterprise (Now: The King's Awards for Enterprise) is presented to UK businesses for outstanding achievement. To win an award like this is a great privilege and achievement, and it allows us to not only be able to proudly use the Queen's Award emblem but also benefit from worldwide recognition, increased commercial value and a boost to our company morale. This is our second time receiving the Queen's Award, with our first in 2016.
Being set up in 1995, and now employing over 30 people, IPEC specialises in condition based maintenance equipment to detect defects in high voltage power distribution networks before they lead to failures.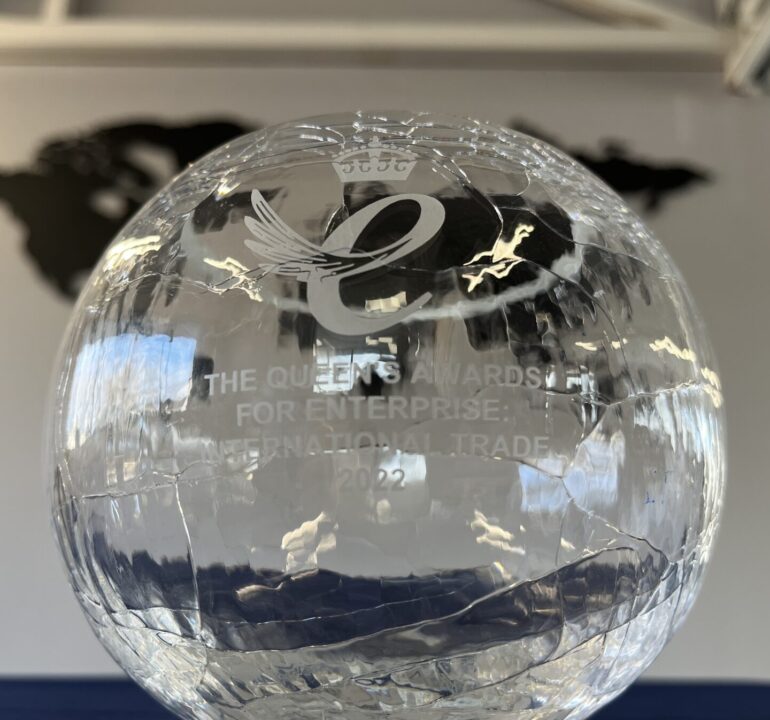 "IPEC's focus on international markets has significantly increased in the past ten years. More recently we have achieved significant growth in international trade. Our partners and distributors in different countries, who support the supply and implementation of IPEC products into high voltage power networks have been key to our recent success. The team at IPEC have worked extremely hard during this difficult few years with the challenges of COVID, and it's great to be recognised for a second time." – Carl Eastham, Business Development Director of IPEC.
As our employees gathered together, they watched on to witness the Lord-Lieutenant present our Managing Director, Colin Smith with the award – followed by a very moving speech:
"Thank you very much my Lord Lieutenant. It is a great honour to have been recognised in this way and I'm very pleased to have been able to show you today what we have achieved here at IPEC and what we are hoping to achieve in the future. We won the Queen's Award in the International Trade category and this is a reflection of our growth in turnover with a very high proportion being overseas. Since we applied for the Award our export sales have gone from strength to strength. In fact, our turnover has almost doubled, and the vast majority of that increase is in export sales. This is good for us, but it is also very good for the region where we have maintained the vast majority of our manufacturing, and very good for the country, supporting the balance of payments and UK PLC.  I'm very proud of what we have done and I'm extremely proud of the team that has made it happen. At times it has been difficult, very stressful, demanding maybe occasionally even a bit hectic. However without exception you, IPEC, have taken up the challenge, stuck at it and pulled through . This award is recognition of all of that and I'd like to thank all of you." – Colin Smith, Managing Director of IPEC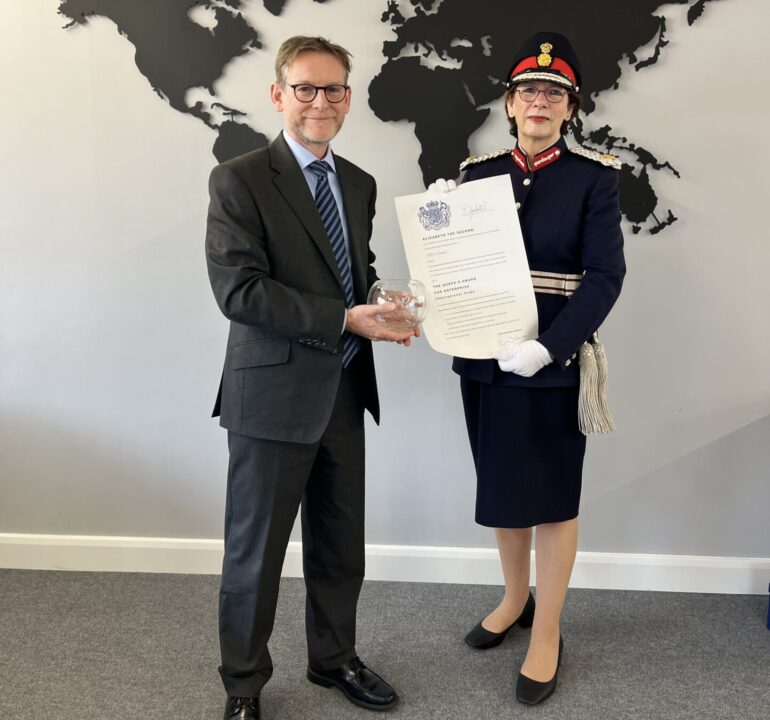 Thank you to everyone at IPEC for your continued effort, hard work, your ability to rise to any challenge and so much more.
Thank you to our global partners, distributors, engineers and customers.
We wouldn't be able to do it without you all, and we will continue to work even harder to achieve the next one.